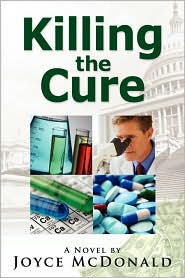 Barringer
Publishing Releases Killing the Cure, a New Novel by Joyce McDonald
Have you ever wondered if there is a different approach to treating or even curing serious diseases like cancer? Local Bonita Spring author and news reporter Joyce McDonald has researched the pharmaceutical manufacturers studied the accusation that multi-billion dollar profits influence these companies to block research for a cure of major illnesses such as cancer.
Librarian Joyce
Aschbrenner
states that McDonald's new book, Killing the Cure, "…is quite an eye-opener. What I always suspected about the pharmaceutical industry is woven into a suspense novel that is superbly crafted and diligently researched. This is an industry that needs exploring and this book did that well while holding my attention with a fascinating plot."
Killing the Cure follows a young medical researcher as he fights a gang of white collar scoundrels who pull out all the stops to prevent him from continuing his research into finding a cause and cure for cancer. The book is based in the true experiences of researchers Dr. Eleanor Alexander-Jackson, a pathologist at Cornell, and Dr. Virginia Livingston's work with cancer.
McDonald has made a lifetime career in the field of writing as a feature writer for a daily newspaper, a publications editor for a string of banks and an executive newsletter writer and editor. McDonald co-authored a biography called
Simka
-the Sammy
Skobel
Story and currently teaches a course in
memoir
writing.
You can order her new novel Killing the Cure from her publisher,
Barringer
Publishing at
js@barringerpublishing.com
.
MOLLY BARROW, PH.D.http://www.DrMollyBarrow.comhttp://www.maliaandteacup.com http://www.progressiveradionetwork.com/the-dr-molly-barrow-show/Dr. Molly Barrow holds a
Ph
.D. in clinical psychology and is the author of
Matchlines
for Singles,
Matchline
for Couples, and Malia and Teacup: Awesome African Adventure and Malia and Teacup: Out on a Limb. As an authority on relationship and psychological topics,Dr. Barrow is a member of the American Psychological Association, Screen Actors Guild, and Authors Guild and is a licensed mental health counselor. Dr. Molly has appeared as an expert in the film, My Suicide, documentaries Ready to Explode and
KTLA
Impact, NBC news, PBS In Focus,
WBZT
talk radio, and in O Magazine, Psychology Today,
Newsday
, New York Times, CNN, The Nest,
MSN
.com, Yahoo, Match.com, Women's Health, Harvard Business School, Women's World, has a radio show on
blogtalkradio
.com and is a columnist for
Menstuff
.org.