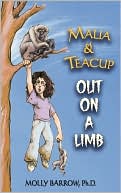 Grandparents in Southern Florida are selecting Malia and Teacup: Awesome African Adventure and the younger version Malia and Teacup: Out on a Limb as the favorite book choice to read to their grandchildren.
Grandparent Ted is looking forward to reading Out on a Limb to his 5 year old granddaughter Hanah this week. The story features a tiny poodle called Teacup and follows the misadventures of Malia who is visiting her father in Kenya. The self esteem buildng theme will enrich and encourage while the fun story entertains.
MOLLY BARROW, PH.D.

http://www.DrMollyBarrow.com

http://www.maliaandteacup.com


Dr. Molly Barrow holds a Ph.D. in clinical psychology and is the author of Matchlines for Singles, Matchline for Couples, and Malia and Teacup: Awesome African Adventure and Malia and Teacup: Out on a Limb. As an authority on relationship and psychological topics,Dr. Barrow is a member of the American Psychological Association, Screen Actors Guild, and Authors Guild and is a licensed mental health counselor. Dr. Molly has appeared as an expert in the film, My Suicide, documentaries Ready to Explode and KTLA Impact, NBC news, PBS In Focus, WBZT talk radio, and in O Magazine, Psychology Today, Newsday, New York Times, CNN, The Nest, MSN.com, Yahoo, Match.com, Women's Health, Harvard Business School, Women's World, has a radio show on blogtalkradio.com and is a columnist for Menstuff.org.